Free Woodworking Plans
from Woodworking Plans 4 Free.com
Featured Free Woodworking Plans
Stackable Wall Unit
The Stackable wall unit free woodworking plan is actually a series of projects. The first part of the project contains the plans to build the wall unit base, basic cabinet, and the cabinet with doors. The other projects will cover the plans to make a filing cabinet and a neat little desk.
Garage Ball Organizer
The garage ball organizer free woodworking project is a perfect starter project for anyone. It's simple and requires only basic hand tools. For the more advanced woodworker, it's a great project to get rid of those scrap pieces of wood that you have laying around the shop.
More free featured woodworking plans
Free Wood-working Plans
Probably the most used and frequently built shop accessory is the router table. This free woodworking plan is a very simple, very easy and low cost router table plan. The router insert will cost you more than the wood you will use. By the way, don't skimp on the cost of the insert. Buy a good quality and high featured insert. You can even get them with a mechanism that allows you to raise and lower your router from the table top side. Here's a link to one of the super fancy router table inserts. Router Table Insert Click Here
|Views: 251 | Last Viewed: 04/29/2012 3:32am | Site: www.grampasworkshop.net
This is a great free woodworking plan for all levels of woodworking talent. According to the article, there are no mitering of joints and the table can stand up on its side for storage. Easy 2x4 and 2x6 construction should allow you to complete this project is a short weekend.
|Views: 990 | Last Viewed: 04/29/2012 8:33am | Site: members.shaw.ca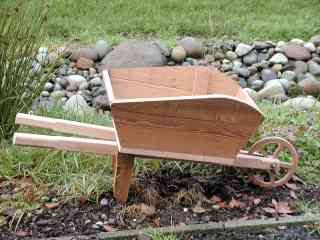 This is a great free woodworking plan. The plan has tons of detailed pages with a list of materials to purchase along with a detailed diagram of each part. Pictures of the completed project will help you assemble this free plan. If you are adventurous, you might consider upscaling the free woodworking plan into a full size wheelbarrow that you can use around the yard.
|Views: 559 | Last Viewed: 04/22/2012 12:29am | Site: www.runnerduck.com
The dimensions of this free woodworking plan are 72" long, 59" wide, and 30.5" tall. The plan is expertly diagrammed in a 10 page PDF file that will take you through the build step by step.
|Views: 947 | Last Viewed: 04/25/2012 5:28pm | Site: www.bobsplans.com
Featured Woodworking products
Deluxe Hold Down Clamp
With wider bodies and non-marring rubber caps, these hold-downs have more power and better grip to keep workpieces in place. Runs in T-tracks on drill press tables, router tables, and more.
Free Woodworking Plans and Categories
Search the Internet for Free Woodworking Plans
Other Free Woodworking Info
Free Woodworking Plan Common Search's