Free Woodworking Plans
from Woodworking Plans 4 Free.com
Featured Free Woodworking Plans
Stackable Wall Unit
The Stackable wall unit free woodworking plan is actually a series of projects. The first part of the project contains the plans to build the wall unit base, basic cabinet, and the cabinet with doors. The other projects will cover the plans to make a filing cabinet and a neat little desk.
Garage Ball Organizer
The garage ball organizer free woodworking project is a perfect starter project for anyone. It's simple and requires only basic hand tools. For the more advanced woodworker, it's a great project to get rid of those scrap pieces of wood that you have laying around the shop.
More free featured woodworking plans
Free Wood-working Plans
This free woodworking plan of a Bedside table incorporates a breadboard top. The plan appears to be simple enough for a beginner and easily accomplished in a weekend.
|Views: 783 | Last Viewed: 04/29/2012 8:44am | Site: swingleydev.com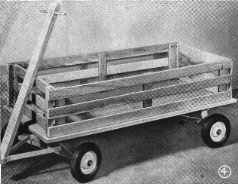 This is a woodworking classic project. The Classic Wooden Wagon that even has home made wooden wheels. The plans make look old but the are very detailed. It is missing the assembly instructions, but I think any average woodworker could figure it out. Enjoy this free woodworking project.
|Views: 442 | Last Viewed: 04/24/2012 3:40pm | Site: www.thewoodcrafter.net
This is a beautiful woodworking project that you can build with this free plan from Popular Woodworking. There isn't a ton of directions on how to build this project, but they do give you a PDF file showing all of the dimensions within a detailed materials list and good diagrams.
|Views: 759 | Last Viewed: 04/28/2012 5:05am | Site: www.popularwoodworking.com
The furniture built by the Byrdcliffe Arts & Crafts Colony between 1903 and 1905 is rare, unusual and expensive. Luckily, it's cheap and easy to build at home.
|Views: 533 | Last Viewed: 04/22/2012 12:34am | Site: www.popularwoodworking.com
Featured Woodworking products
Deluxe Hold Down Clamp
With wider bodies and non-marring rubber caps, these hold-downs have more power and better grip to keep workpieces in place. Runs in T-tracks on drill press tables, router tables, and more.
Free Woodworking Plans and Categories
Search the Internet for Free Woodworking Plans
Other Free Woodworking Info
Free Woodworking Plan Common Search's