Free Woodworking Plans
from Woodworking Plans 4 Free.com
Featured Free Woodworking Plans
Stackable Wall Unit
The Stackable wall unit free woodworking plan is actually a series of projects. The first part of the project contains the plans to build the wall unit base, basic cabinet, and the cabinet with doors. The other projects will cover the plans to make a filing cabinet and a neat little desk.
Garage Ball Organizer
The garage ball organizer free woodworking project is a perfect starter project for anyone. It's simple and requires only basic hand tools. For the more advanced woodworker, it's a great project to get rid of those scrap pieces of wood that you have laying around the shop.
More free featured woodworking plans
Free Wood-working Plans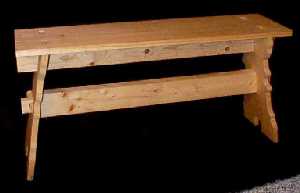 Maybe you are in to LARPing or you need a project for your high school shop class. You could have landed on this page, looking for a free woodworking plan of a bench because you are opening a medieval dinner theater and you are to cheap to buy seating. What ever your reason is, you found an excellent free bench plan. They even went through the extra effort to create a prototype bench before finalizing on a design. This woodworking plan has everything you need to build this project. By the way, don't be scared by the Middle ages design. Take the extra time and create your own custom support leg design and bring this free bench plan into the 21st century.
|Views: 72 | Last Viewed: 04/29/2012 4:43am | Site: www.greydragon.org
It doesn't get any more rustic than a bench made from logs. Find out how to build a bench like this with a chainsaw.
|Views: 1029 | Last Viewed: 04/29/2012 8:37am | Site: www.popularmechanics.com
Apparently, stilt walkers have their own styles of chairs. Thinking back, I guess it's obvious that one that walks on stilts would need a taller chair to sit on. If you find your self in that category, you probably make good use of this free woodworking plan. The website may look simple, but the information on it to build this project is great. Check it out.
|Views: 550 | Last Viewed: 04/25/2012 7:35pm | Site: www.geocities.com
This plan has 3 DWG files that show the contruction of the RC model airplane. The instruction appear to be in French, but the diagrams are very detailed.
|Views: 557 | Last Viewed: 04/25/2012 9:33am | Site: www.svensons.com
Featured Woodworking products
Deluxe Hold Down Clamp
With wider bodies and non-marring rubber caps, these hold-downs have more power and better grip to keep workpieces in place. Runs in T-tracks on drill press tables, router tables, and more.
Free Woodworking Plans and Categories
Search the Internet for Free Woodworking Plans
Other Free Woodworking Info
Free Woodworking Plan Common Search's