Free Woodworking Plans
from Woodworking Plans 4 Free.com
Featured Free Woodworking Plans
Stackable Wall Unit
The Stackable wall unit free woodworking plan is actually a series of projects. The first part of the project contains the plans to build the wall unit base, basic cabinet, and the cabinet with doors. The other projects will cover the plans to make a filing cabinet and a neat little desk.
Garage Ball Organizer
The garage ball organizer free woodworking project is a perfect starter project for anyone. It's simple and requires only basic hand tools. For the more advanced woodworker, it's a great project to get rid of those scrap pieces of wood that you have laying around the shop.
More free featured woodworking plans
Free Wood-working Plans
Looking for a great weekend project. You've found one. This plan is a simple one page PDF, but it's very easy to follow and they have thought of everything. All you need to do is cut and assemble. The woodworking plan contains detailed drawings with a material list. If you can't build this one, I'd try picking up knitting. You might be better suited for that. (BTW - per my lawyers: "that was a gender neutral comment meant only to make inference of how poor of a woodworker you are.")
|Views: 901 | Last Viewed: 04/29/2012 8:30am | Site: www.archchemicals.com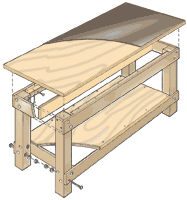 Even if you're a wizard with tools, you can't cut a straight line or plane a true edge without a solid surface to work on. A rickety table or wobbly counter can't securely support your work. And with power tools, a shaky surface is downright dangerous. A good workbench is literally the foundation of good work.
|Views: 4493 | Last Viewed: 04/27/2012 7:29am | Site: www.azwoodplans.com
download these plans and build a unique adaptation of the classic Adirondack chair
|Views: 1194 | Last Viewed: 04/29/2012 1:08am | Site: www.twistedknotwoodshop.com
This is a perfect and free plan that will add to anyone's shop. This plan from Bob's plans is very detailed and it will take you step by step through the build of this project.
|Views: 1023 | Last Viewed: 04/29/2012 4:36pm | Site: www.bobsplans.com
Featured Woodworking products
Deluxe Hold Down Clamp
With wider bodies and non-marring rubber caps, these hold-downs have more power and better grip to keep workpieces in place. Runs in T-tracks on drill press tables, router tables, and more.
Free Woodworking Plans and Categories
Search the Internet for Free Woodworking Plans
Other Free Woodworking Info
Free Woodworking Plan Common Search's