Free Woodworking Plans
from Woodworking Plans 4 Free.com
Free woodworking Chair plans. Chair woodworking plans that you can build or modify to fit your needs. Free woodworking plans of all types and sizes to meet your woodworking abilities.
20 Free Woodworking Plans found in the "Chairs" Category.

---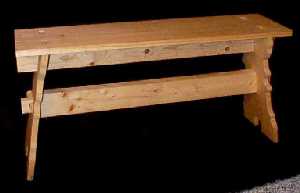 Maybe you are in to LARPing or you need a project for your high school shop class. You could have landed on this page, looking for a free woodworking plan of a bench because you are opening a medieval dinner theater and you are to cheap to buy seating. What ever your reason is, you found an excellent free bench plan. They even went through the extra effort to create a prototype bench before finalizing on a design. This woodworking plan has everything you need to build this project. By the way, don't be scared by the Middle ages design. Take the extra time and create your own custom support leg design and bring this free bench plan into the 21st century.
|Views: 1648 | Last Viewed: 11/18/2018 7:36am | Site: www.greydragon.org
It looks like a step stool to me, but I guess if you are into sewing, you know what this is. Apparently, it is used to rest ones feet underneath the sewing machine. If you try this free woodworking plan, you should be able to build it within a weekend. It might be a great project to build with the kids.
|Views: 1898 | Last Viewed: 11/18/2018 3:58am | Site: swingleydev.com
This one is for the advanced woodworker. It will challenge your dovetailing ability. This free woodworking plan calls for 2 different kinds of dovetails; Through dovetail, sliding dovetail, and tappered dovetail.
|Views: 1906 | Last Viewed: 11/18/2018 7:36am | Site: www.minwax.com
This plan claims to show you how to build an adirondack chair for $20 and I think I believe them. Of course, if you want to upgrade from the pine wood they are using it will cost a little more The plan has good descriptions, materials list, and some diagrams.
|Views: 1913 | Last Viewed: 11/18/2018 3:58am | Site: www.am-wood.com
This is a simple, yet seemingly guick free woodworking project to build. The plans are in 3D will all of the dimensions and instructions you will need.
|Views: 1914 | Last Viewed: 11/18/2018 3:58am | Site: www.geocities.com
Two Person Adirondack Rocking Chair
After you've made the standard adirondack chair, it's time to move on to the rocker version. This free woodworking plan comes with excellent written descriptions, a materials list, and some pictures and diagrams.
|Views: 1916 | Last Viewed: 11/18/2018 2:41am | Site: www.am-wood.com
---
Free Woodworking Plan Categories
Free Woodworking Plan Categories
Search the Internet for Free Woodworking Plans
Other Free Woodworking Info
Free Woodworking Plan Common Search's