Free Woodworking Plans
from Woodworking Plans 4 Free.com
Free woodworking Chair plans. Chair woodworking plans that you can build or modify to fit your needs. Free woodworking plans of all types and sizes to meet your woodworking abilities.
20 Free Woodworking Plans found in the "Chairs" Category.

---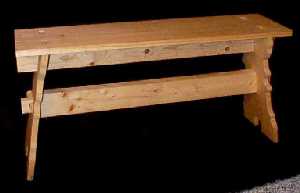 Maybe you are in to LARPing or you need a project for your high school shop class. You could have landed on this page, looking for a free woodworking plan of a bench because you are opening a medieval dinner theater and you are to cheap to buy seating. What ever your reason is, you found an excellent free bench plan. They even went through the extra effort to create a prototype bench before finalizing on a design. This woodworking plan has everything you need to build this project. By the way, don't be scared by the Middle ages design. Take the extra time and create your own custom support leg design and bring this free bench plan into the 21st century.
|Views: 1547 | Last Viewed: 07/17/2018 10:28am | Site: www.greydragon.org
It looks like a step stool to me, but I guess if you are into sewing, you know what this is. Apparently, it is used to rest ones feet underneath the sewing machine. If you try this free woodworking plan, you should be able to build it within a weekend. It might be a great project to build with the kids.
|Views: 1792 | Last Viewed: 07/16/2018 10:51pm | Site: swingleydev.com
As the Author of this plan states, this would be a great woodworking project for a 4H or Scouting group. It's very functional and easy to break down and carry off. The chair can also be easily carried around use the slot that is cut for the seat and the strap that you install. A good free woodworking plan must have a good material list, plenty of diagrams, and instructions and this free plan has them all. They even give you a list of tools required to build this project. The only down side to this woodworking project is that I think the chair will be quite heavy, but they say if you use Spruce or Fir the chair's weight will be manageable. Stay away from hardwoods like Oak or Cherry. Although, they would look great and you could use them if you don't plan to move the chairs around.
|Views: 1828 | Last Viewed: 07/18/2018 1:31am | Site: woodworkingresources.tripod.com
Apparently, stilt walkers have their own styles of chairs. Thinking back, I guess it's obvious that one that walks on stilts would need a taller chair to sit on. If you find your self in that category, you probably make good use of this free woodworking plan. The website may look simple, but the information on it to build this project is great. Check it out.
|Views: 1828 | Last Viewed: 07/17/2018 10:30am | Site: www.geocities.com
This is a simple, yet seemingly guick free woodworking project to build. The plans are in 3D will all of the dimensions and instructions you will need.
|Views: 1828 | Last Viewed: 07/18/2018 1:52pm | Site: www.geocities.com
A very simple, yet functional child's chair. Consider making 4 of these and adding a table to the mix. You kids will love this one. The free woodworking plan is in 3D with good asembly instructions and detailed drawings that should make an easy build.
|Views: 1829 | Last Viewed: 07/17/2018 10:30am | Site: www.geocities.com
---
Free Woodworking Plan Categories
Free Woodworking Plan Categories
Search the Internet for Free Woodworking Plans
Other Free Woodworking Info
Free Woodworking Plan Common Search's