Free Woodworking Plans
from Woodworking Plans 4 Free.com
Free woodworking Chair plans. Chair woodworking plans that you can build or modify to fit your needs. Free woodworking plans of all types and sizes to meet your woodworking abilities.
20 Free Woodworking Plans found in the "Chairs" Category.

---
Although techincally called a sawbench, I don't think a lot of you have a need for a traditional sawbench. However, I'm sure that you could find a use for a stool. This free woodworking plan uses angled tenons and pinned stingers. The plan is very simple and basic, but with the right finish, this one will be a beauty.
|Views: 2121 | Last Viewed: 03/18/2019 2:33am | Site: swingleydev.com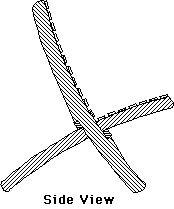 The plan was found on a scouting website, so I would be a great project to build with kids. Functionally, it would be a perfect addition to to anyone's camp gear.
|Views: 2173 | Last Viewed: 03/17/2019 8:54pm | Site: www.scouters.us
You've probably seen these chairs in office supply stores were they advertise them to relieve back strain when working at a desk. Try this free woodworking plan and build your own kneeling chair.
|Views: 2173 | Last Viewed: 03/16/2019 1:15pm | Site: www.thewoodcrafter.net
Bring the beauty of Northern California to your backyard with this classic redwood bench. Sit comfortably on its curved seat and perfectly angled back rest. Ok, I don't actually know that the angle on the back reset is perfect...just go with it. I'm not a benchologist, but I do know a great free woodworking plan when I see one. This plan has everything you need to build a Mendocino Bench including wonderfully colored diagrams and all of the dimensions required. They also included the adjustments to the plan if you want to transform this bench into a built in for your deck. As an added bonus, they have useful information regarding Redwood and how to finish this type of wood.
|Views: 2195 | Last Viewed: 03/16/2019 3:31pm | Site: www.calredwood.org
This is a PDF file, so there isn't a picture available, but the plan is a good one. I've seen many of these kneeling chairs used as computer chairs. This free woodworking plan comes with pictures and diagrams to show you how to cut and assemble the pieces.
|Views: 2347 | Last Viewed: 03/16/2019 1:15pm | Site: absolutelyfreeplans.com
All it takes is $40 in pine, a saw and a drill to build this outdoor Morris chair.
|Views: 2530 | Last Viewed: 03/19/2019 9:41am | Site: www.popularwoodworking.com
---
Free Woodworking Plan Categories
Free Woodworking Plan Categories
Search the Internet for Free Woodworking Plans
Other Free Woodworking Info
Free Woodworking Plan Common Search's