Free Woodworking Plans
from Woodworking Plans 4 Free.com
Build, design, or research ideas for your next kitchen project by using one of these free woodworking plans. Save money by building your next kitchen project.
12 Free Woodworking Plans found in the "Kitchen" Category.

---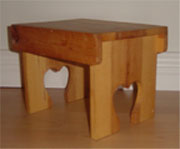 I'm sure that a milking stool is not on the top of everyones list to build, but this would make a great kitchen step stool. Simple yet, unique...This plan is geared towards the beginning woodworker, but we all might be able to use a stool like this. This free woodworking plan calls for using dowels to join the project together. You might consider grabbing these dowel centers or this doweling jig before you start this project. Grab those extra boards you have cluttering your workshop and throw this one together.
|Views: 754 | Last Viewed: 06/25/2017 8:58pm | Site: sawdustmaking.com
This free woodworking plan is for a under cabinet mounted knife rack. It's a very useful and what looks like, simple woodworking project to build. The plan comes with all of the dimensions, diagrams, and instructions you will need to construct this project. Oh, the nice thing is that you don't need very many tools to build this one. Give it a try.
|Views: 946 | Last Viewed: 06/25/2017 11:12pm | Site: members.tripod.com
Secret Compartment Paper Towel Holder
Here's a quick, easy-to-make paper towel rack that's unlike any you'll find elsewhere
|Views: 946 | Last Viewed: 06/25/2017 8:31pm | Site: www.shopsmithhandson.com
Lee's Wood Projects - How to Build a Wooden Serving Tray. This stylish wooden serving tray is useful for carrying a meal into the TV room so you won't miss that important program while you eat.
|Views: 946 | Last Viewed: 06/25/2017 11:52pm | Site: www.leeswoodprojects.com
How to Make a Wooden Bread Box - Lee's Wood Projects. This stylish wooden bread box will help keep your bread and rolls fresh for many days.
|Views: 947 | Last Viewed: 06/25/2017 11:28pm | Site: www.leeswoodprojects.com
Lee's Wood Projects - How to Make a Wooden Expandable Flatware Tray
|Views: 947 | Last Viewed: 06/25/2017 7:50pm | Site: www.leeswoodprojects.com
---
Free Woodworking Plan Categories
Free Woodworking Plan Categories
Search the Internet for Free Woodworking Plans
Other Free Woodworking Info
Free Woodworking Plan Common Search's