Free Woodworking Plans
from Woodworking Plans 4 Free.com
Free woodworking plans to build your next outdoor furniture project from scratch. Use one of these plans or get ideas for your own design. Free woodworking projects for every level of woodworking talent.
27 Free Woodworking Plans found in the "Outdoor Furniture" Category.

---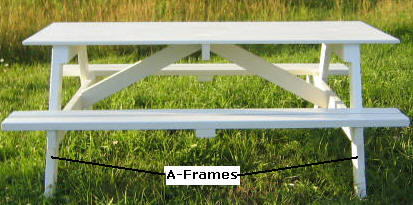 This website does a really great job at showing detailed pictures taken during the construction of this free woodworking plan. I think this type of plan will make it very easy to build one of your own.
|Views: 2553 | Last Viewed: 12/12/2018 9:15am | Site: www.wayneofthewoods.com
I don't know why, but this project looks larger than 8ft. Either way, this is a great free plan that can be, according to the website, built in one day. It might be a long day, but I'm sure that you will enjoy building this free woodworking plan from Handymanwire.com.
|Views: 2553 | Last Viewed: 12/15/2018 7:04am | Site: www.handymanwire.com
This is a free woodworking plan for a classic american picnic table. The plan calls for normal 2x4 construction, but it also specifies the use redwood boards, which I would recommend for it durability. There are not a lot of detailed drawings, but the article will take you step by step through the construction.
|Views: 2554 | Last Viewed: 12/13/2018 10:36am | Site: www.doityourself.com
The California Redwood Association has designed this free woodworking plan, that comes with a material list and a 3 page PDF that will show you the construction steps.
|Views: 2555 | Last Viewed: 12/12/2018 2:13pm | Site: www.calredwood.org
This is a simple plan for a wishing well. It is made with 1x2's and 1x3's - covered with cedar shingles. Make sure that you use galvanized screws when assembling this free woodworking plan.
|Views: 2574 | Last Viewed: 12/10/2018 4:12am | Site: greenthumbgoodies.com
This is a great free woodworking plan for all levels of woodworking talent. According to the article, there are no mitering of joints and the table can stand up on its side for storage. Easy 2x4 and 2x6 construction should allow you to complete this project is a short weekend.
|Views: 2576 | Last Viewed: 12/07/2018 1:31am | Site: members.shaw.ca
---
Free Woodworking Plan Categories
Free Woodworking Plan Categories
Search the Internet for Free Woodworking Plans
Other Free Woodworking Info
Free Woodworking Plan Common Search's