Free Woodworking Plans
from Woodworking Plans 4 Free.com
Free woodworking plans for shop jigs and other useful wookshop tools. Jig making not only makes your job easier, but it also improves your skills.
10 Free Woodworking Plans found in the "Shop Jigs" Category.

---
This is a perfect and free plan that will add to anyone's shop. This plan from Bob's plans is very detailed and it will take you step by step through the build of this project.
|Views: 3255 | Last Viewed: 02/18/2019 8:10am | Site: www.bobsplans.com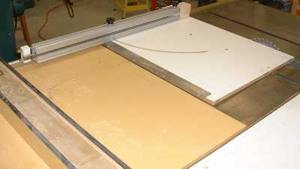 A crosscut sled is an indispensable addition to your table saw. It can replace your miter saw with the proper attachments. Check out this free woodworking plan to make your own.
|Views: 3345 | Last Viewed: 02/16/2019 3:42pm | Site: www.thewoodshop.20m.com
This handy tenon jig was designed to securely hold the workpiece for cutting tenons on the table saw or the drill press. A combination of T-Track, hold down clamps, toggle clamps, and stop blocks permits you to clamp the work piece in the desired position so your cuts are accurate and true.
|Views: 3380 | Last Viewed: 02/17/2019 1:44am | Site: www.bobsplans.com
Whether you call it a Table Saw Jig, Table Saw Sled, or Crosscut Sled, this table saw accessory will be one of the most important tools in your shop. With typical miter guages, the blade tends to pull the work away from the fence. This tool allows you to clamp the workpiece at the exact angle you need.
|Views: 4521 | Last Viewed: 02/16/2019 7:56am | Site: www.bobsplans.com
---
Free Woodworking Plan Categories
Free Woodworking Plan Categories
Search the Internet for Free Woodworking Plans
Other Free Woodworking Info
Free Woodworking Plan Common Search's