Free Woodworking Plans
from Woodworking Plans 4 Free.com
Build these easy shop tools using the free woodoworking plans or come up with ideas to design your own.
4 Free Woodworking Plans found in the "Shop Tools" Category.

---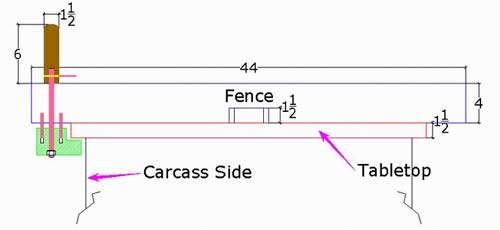 The Fence Detail of my Router Table For Woodworkers
|Views: 2107 | Last Viewed: 07/20/2019 4:05pm | Site: www.twistedknotwoodshop.com
Not only is this a great free woodworking plan, it is a very useful one. Everyone can use a plane in the shop and this one is easy to build. The free woodworking plan has execellent written instruction for the build along with two diagrams that will lead you along the way.
|Views: 2314 | Last Viewed: 07/19/2019 7:51am | Site: swingleydev.com
Everyone needs an air filter in their shop. Check out this free woodworking plan, as it's very functional and easy to build. I've built one of these out of the parts from an old furnace and so can you.
|Views: 2326 | Last Viewed: 07/19/2019 1:08am | Site: wood.bigelowsite.com
Flexible Shop-Built Mortising Machine
This article contains pictures and a description of the construction of a shop-made tool I call the Mortise-Flex. You may have seen something similar to this used on one of the TV woodworking shows. Click on the link at the bottom of the article to download the free plan.
|Views: 3924 | Last Viewed: 07/19/2019 1:08am | Site: www.woodcentral.com
---
Free Woodworking Plan Categories
Free Woodworking Plan Categories
Search the Internet for Free Woodworking Plans
Other Free Woodworking Info
Free Woodworking Plan Common Search's