Free Woodworking Plans
from Woodworking Plans 4 Free.com
How to build a free woodworking workbench. Build one these free plans or use the ideas to design your own. A workbench is a must have for any do-it-yourselfer.
5 Free Woodworking Plans found in the "Workbenches" Category.

---
Cheap and Functional Workbench
The workbench is an integral part of every woodworkers workshop. This is a fairly quick and easy free woodworking plan to build. As the title says, it's also cheap, yet very functional. It will provide you with plenty of working space to build your woodworking project and give you storage below. This would be an excellent project for the beginner. I think it gives a beginning woodworker the basics of cabinet construction and joinery. I'd give this one a try with the idea that you will upgrade your workbench as your woodworking skills improve. The plan could have a bit more diagrams and instructions, but the material list is very complete, which should allow you to easily build this project. It could be built entirely out of plywood by gluing up two pieces of plywood to form the 1 1/2" thick pieces of stock required.
|Views: 2039 | Last Viewed: 03/19/2019 1:15am | Site: www.am-wood.com
Traditional bench designs like this were meant to provide a work surface that was as stable as a rock. When woodworking was done entirely by hand a heavy, rigid bench was essential to the craft because joiners had to have a way of holding work still while they applied tools to it.
|Views: 5857 | Last Viewed: 03/17/2019 1:04pm | Site: www.jeffgreefwoodworking.com
This workbench is for the serious woodworker who has limited space. It is designed to roll out onto the floor when needed and easily rolled back along the wall when not needed. Additionally, it features a built in router table, T-Track clamping system, and lots of drawers.The best thing is that the plans are free.
|Views: 6709 | Last Viewed: 03/18/2019 10:18am | Site: www.bobsplans.com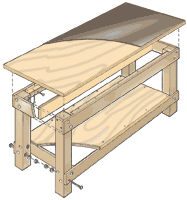 Even if you're a wizard with tools, you can't cut a straight line or plane a true edge without a solid surface to work on. A rickety table or wobbly counter can't securely support your work. And with power tools, a shaky surface is downright dangerous. A good workbench is literally the foundation of good work.
|Views: 7740 | Last Viewed: 03/17/2019 3:40pm | Site: www.azwoodplans.com
A stout, inexpensive bench that doesn't take a month of Sundays to build.
|Views: 8918 | Last Viewed: 03/19/2019 11:18am | Site: www.popularwoodworking.com
---
Free Woodworking Plan Categories
Free Woodworking Plan Categories
Search the Internet for Free Woodworking Plans
Other Free Woodworking Info
Free Woodworking Plan Common Search's