Maybe you are into LARPing or you need a project for your high school shop class. You could have landed on this page, looking for a free woodworking plan of a bench because you are opening a medieval dinner theater and you are too cheap to buy seating. Whatever your reason is, you found an excellent free bench plan. They even went through the extra effort to create a prototype bench before finalizing a design. This woodworking plan has everything you need to build this project. By the way, don't be scared by the design of the Middle ages. Take the extra time and create a custom support leg design and bring this free bench plan into the 21st century.
This plan was brought to you by  "House Greydragon". If you are interested in the 14th-century medieval lifestyle, I would recommend heading over to their website and browse their pages.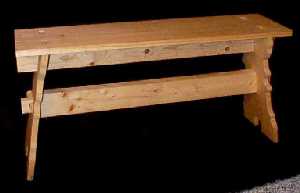 Ready to find out more?
Click the button to view this free woodworking plan.