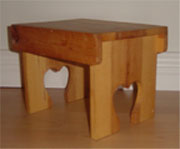 I'm sure that a milking stool is not on the top of everyone's list to build, but this would make a great kitchen step stool. Simple yet, unique...This plan is geared towards the beginning woodworker, but we all might be able to use a stool like this.
This free woodworking plan calls for using dowels to join the project together. You might consider grabbing these dowel centers or this doweling jig kit before you start this project.
Grab those extra boards you have cluttering your workshop and throw this one together.